BILL GATES ENTITY INVESTS $80 MILLION TO BUY CONTROLLING INTEREST IN BELMONT PROJECT
Publish Date: 11-03-2017
Volume: XXIII
Number: 43


Print Article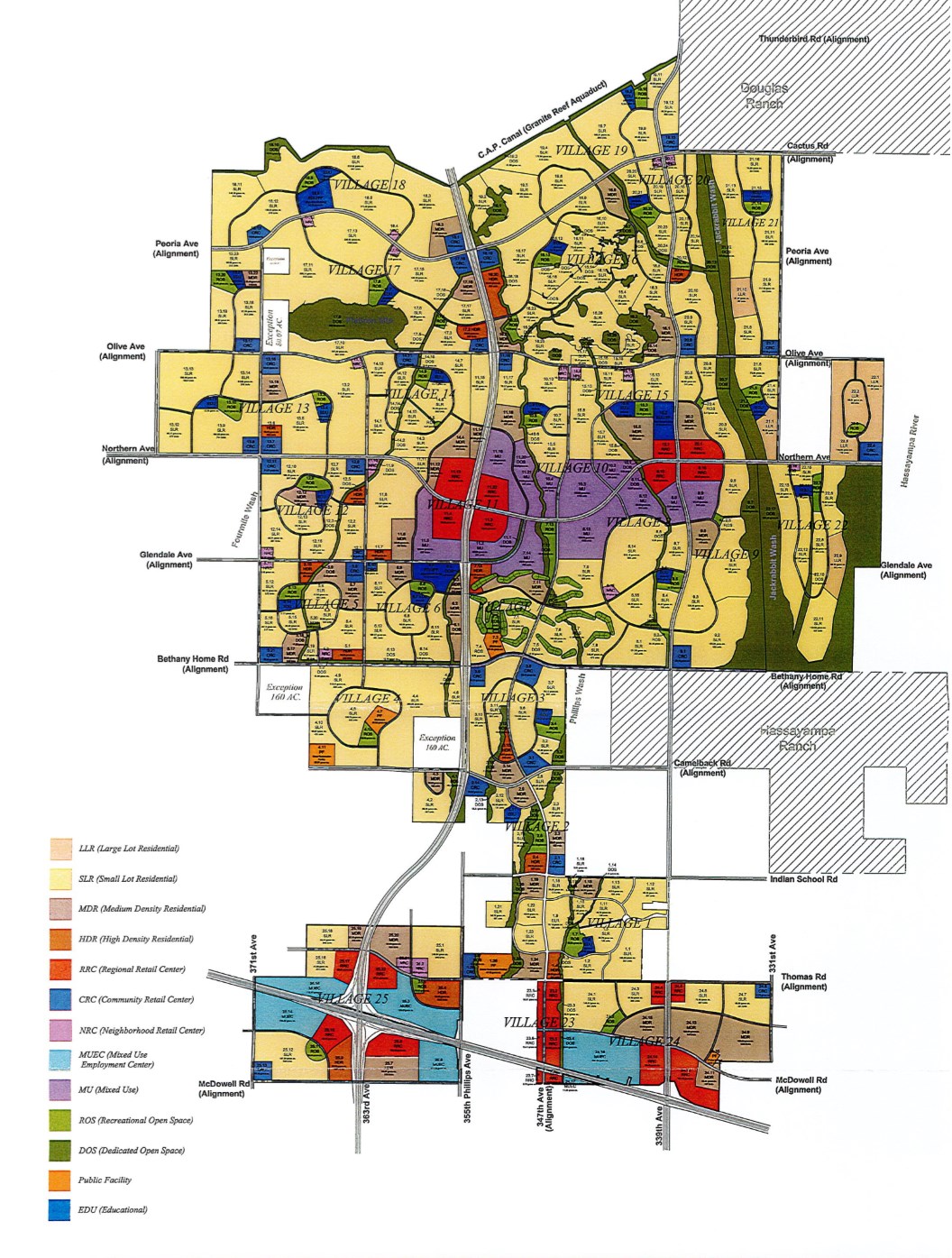 Photo Credit: LKY Development Co. Inc.
Maricopa County – A company formed by Microsoft co-founder Bill Gates paid $79.535 + million ($7,500 per acre) to purchase a 53.271 + percent interest in a 19,931-acre tract of land in the far West Valley known as Belmont. The sprawling acreage, located along both sides of 339th Avenue and north of Interstate 10, is entitled for almost 80,000 residential units and more than 3,800 acres of industrial, office and commercial uses. Maricopa County records show the majority interest in the Belmont acreage was acquired in a cash sale by Mt. Lemmon Holdings LLC, an affiliate of Cascade Investment LLC in Kirkland, Wash. (an asset management firm owned by Gates). Representatives of the Belmont property ownership group declined to disclose the identity of the new majority owner, but said it is a "major institutional investor with significant real estate assets." With the diverse assortment of high-profile properties held by Cascade Investment and other affiliated entities, that certainly would describe companies controlled by Gates, who Forbes has ranked as the richest person in the world for the past four straight years. The investment from the Gates entity is expected to "spur the planning and development of Belmont," which is just south of the 33,810-acre Douglas Ranch master-planned community that is planned for 110,000 homes. The Belmont property, bisected by the Wickenburg Highway and bounded on the north by the Central Arizona Project (CAP) Canal, is also expected to benefit from the future alignment of Interstate 11. As it stands now, that planned transportation corridor would pass through about five miles of the Belmont project. According to a prepared statement from the property owners: Belmont would create a forward-thinking community with a communication and infrastructure spine that embraces cutting-edge technology, designed around high-speed digital networks, data centers, new manufacturing technologies and distribution models, autonomous vehicles and autonomous logistics hubs. Long time Phoenix zoning attorney Grady Gammage, Jr., a founding partner of Gammage & Burnham PLC, is representing the owners of the Tonopah-area land. "Belmont is an incredible opportunity for the state of Arizona," says Gammage. "Envisioning future infrastructure from scratch is far easier and more cost efficient than retrofitting an existing urban fabric. Belmont presents such an opportunity. We know of virtually no other property in the United States so strategically positioned, already entitled and yet presenting a nearly blank slate of opportunity." That would not have been the case had a Valley home builder been successful in buying the entire property 10 + years ago. In 2006, the now defunct Engle Homes/Arizona Inc. agreed to acquire the land for roughly $75 million, made $11 + million in payments toward the purchase and spent several million more dollars on platting and engineering and other costs to design a community that would have conventional housing as well as an active-adult component. Incredibly, the builder eventually walked away from the deal and $15 + million it had spent before its parent company filed for bankruptcy protection and then later closed its doors. The Belmont master-plan, which now includes another 4,800 acres of land that is owned by the State of Arizona, is back on track for development and some say there could be rooftops within the far West Valley tract in the next three to five years. Sources say the new ownership venture will likely rename the property before it begins marketing parcels to builders and developers. Here is a summary of the transactions involving the Belmont land, which is comparable in square miles and projected population to the City of Tempe. Mt. Lemmon Holdings LLC initially paid $82.521 + million ($7,500 per acre) to acquire 55.271 + percent interest in the property. The sellers were 12 investment entities led by Larry Yount and Robyn Calihan of LKY Development Co. Inc. in Scottsdale. On the same day of the initial sale, records show Mt. Lemmon Holdings sold 1.99 percent interest to LKY Real Estate Belmont LLC (formed by Yount and Calihan) for just under $2.986 million ($7,500 per acre). The other 44.728 + percent ownership of Belmont had been owned by 9 investment entities, led by Belmont LKY 20K L.P. (Yount, Calihan, principals) with a 24.25 + percent interest. That group of real estate investors, known as Belmont Partners, purchased the nearly 20,000-acre Belmont property in May 1999 for $11.7 million ($587 per acre). In addition to Yount and Calihan, the Phoenix-area investors that comprise Belmont Partners include: Mike Cowley of Cowley Cos., Broc Hiatt and Craig Cardon of Cardon Hiatt Cos., Brent Bowden and Elijah Cardon of Cardon Bowden Investments and Greg Vogel of Land Advisors Organization. The investors actually received almost all of their initial investment back in 2007 after Engle Homes made the last of $11 + million in payments toward a purchase option that the company never completed. The venture with the Gates entity was formed through six transactions that recorded Nov. 3. In the first of those sales, the Belmont Partners investors sold its 44.728 + percent interest to The Belmont Arizona Co. LLC (entity managed by LKY Real Estate Belmont LLC) for $66.770 million ($7,500 per lot). In three double escrow sales, Maricopa County records show The Belmont Arizona Co. LLC sold its 44.728 + percent interest to Belmont Infraco LLC for $66.770 million ($7,500 per lot), Mt. Lemmon Holdings LLC sold its 53.271 + percent interest to Belmont Infraco LLC for $79.535 + million ($7,500 per lot) and LKY Real Estate Belmont LLC sold the remaining 1.999 percent interest to Belmont Infraco LLC for just under $2.986 million ($7,500 per acre). According to records at the Arizona Corporation Commission, LKY Real Estate Belmont LLC is serving as the manager of Belmont Infraco LLC. The members of Belmont Infraco LLC are Mt. Lemon Holdings LLC, The Belmont Arizona Co. LLC and LKY Real Estate Belmont LLC. Find out more from Yount at (480) 951-1281. Reach Gammage at (602) 256-4469.
© Business Real Estate Weekly, Inc. and brewaz.com, 1995-2017. Unauthorized use and/or duplication of this material without express and written permission from this site's author and/or owner is strictly prohibited. For permission to reproduce any article from this publication, contact Jennifer Rogers at [email protected].
Business Real Estate Weekly, Inc. is the publisher of Business Real Estate Weekly (BREW), a tip sheet newsletter that covers business and real estate activity in Arizona. Founded in 1995, BREW is a weekly publication focusing on new residential and commercial developments, the sale of income-producing properties and businesses relocating or expanding in Arizona. For those looking to have cutting edge information at their finger tips, BREW is the publication business professionals use to get the latest in commercial and residential real estate news in Arizona. Known for it's accurate, timely and independently researched information, BREW has been called "The Bible" for its detailed, first hand reporting on business and real estate deals in Arizona. With more than 20 years of stories and news items in our archives, Business Real Estate Weekly has the longest period of chronicled history of all business and real estate news sources in the Valley. With the newly-added multiple search capabilities in our archives, BREW is a must have for anyone researching real estate in Arizona or simply following the market.