VENTURE BUYING STATE FARM CAMPUS AT TEMPE MARINA HEIGHTS IN RECORD $928 MILLION DEAL
Publish Date: 12-08-2017
Volume: XXIII
Number: 48


Print Article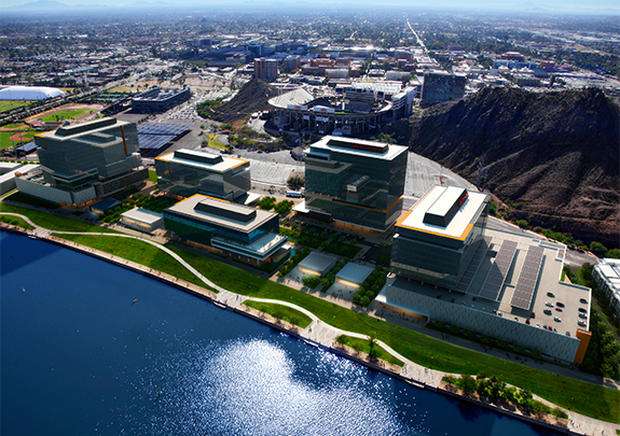 Photo Credit: CBS
Tempe – In what will be the biggest commercial office property sale ever recorded in the Phoenix market, a partnership formed by Transwestern Investment Group (TIG) in Houston, Tex. and JDM Partners LLC in Phoenix (Jerry Colangelo, David Eaton, Mel Shultz, principals) is expected to pay $928 million (roughly $457 per foot) to buy the 2+ million-square-foot Marina Heights office project located along Tempe Town Lake in Tempe. State Farm Auto Insurance Co., which occupies all five of the office buildings in the recently completed development, heads up the selling entity in the sale/lease back deal. The buyer in the sale, which is set to close today, is Corporate Properties Tempe SPE LLC. The member of the buyer is Corporate Properties Trust III L.P., a limited partnership formed by Transwestern and JDM Partners. The seller is SFSR Marina Heights LLC. The members of that company are Tempe Office Investment LLC, formed by State Farm Mutual Automobile Insurance Co. in Bloomington, Ill., and S/R Marina Heights LLC, formed by Sunbelt Holdings Inc. in Scottsdale (John Graham, manager) and Ryan Cos. U.S. Inc. in Phoenix (John Strittmatter, manager). Sources say Bill Levine and Andrew Cohn of Levine Investments Limited Partnership in Phoenix are silent partners in the ownership group. Word is the longtime Valley investors provided almost 70 percent of the estimated $375 million of equity the ownership partnership has in the investment. More than $500 million of the purchase price is being financed by a consortium of Wall Street lenders. Multiple efforts to reach Levine and Cohn were unsuccessful. The sale eclipses the previous highest price per foot paid for single tenant, class A office space in the Valley. That record was set three years ago when American Realty Capital Properties Inc. in New York City, N.Y. (NASDAQ:ARCP) paid $110 million ($441.47 per foot) to buy the Freeport-McMoRan Center office project in downtown Phoenix. The 249,000 sq. ft. of office space comprises the top eight floors of a 26-story hotel-office building located at the northeast corner of Central Avenue and Van Buren Street. The property, with an address of 333 N. Central Avenue, also houses the 242-room Westin Phoenix Downtown. That sale, which recorded in November 2014, was brokered by Jim Fijan, who has sold $12 billion in Valley investment properties over the past three decades. "The sale (of Marina Heights) is historic for the price per square-foot, but also for its sheer size," says Fijan. "The potential for additional large campus transactions in the Metro Phoenix area is strong for all the reasons that the State Farm deal came together: the educated workforce, cost of living and quality of life." Marina Heights is along the north side of Rio Salado Parkway about one block west of Scottsdale Road adjacent north of Arizona State University and Sun Devil Stadium. As part of the purchase, the TIG/JDM limited partnership assumed a 99-year ground lease on the 20.282-acre site, which is owned by the Arizona Board of Regents. Ryan Cos. and Sunbelt Holdings, co-developers of Marina Heights, completed construction on the project's fifth and final office structure in April. The LEED-certified buildings, developed from 2015 to 2017, serve as a regional hub for State Farm Auto Insurance. At full capacity, the company expects to have more than 8,000 workers employed in Tempe. State Farm, a high-credit tenant, has leased the property for 25 years. The 2.031 + million-square-foot campus includes 1.966 + million sq. ft. of office space and 60,000 + sq. ft. of retail and restaurant space and other amenities, including a Mountainside Fitness, Starbucks and Honor Health facility. The project features more than 8,000 parking spaces, including below grade, podium, garage and surface level stalls. The Marina Heights office space is comprised of 347,851 sq. ft. in a 16-story building with six levels of podium parking located at 300 E. Rio Salado Parkway, 575,639 sq. ft. in a 16-story structure at 400 E. Rio Salado Parkway, 245,370 sq. ft. in a 6-story office at 450 E. Rio Salado Parkway, 370,332 sq. ft. in a 9-story structure at 500 E. Rio Salado Parkway and 426,902 sq. ft. in a 17-story building that has 7 levels of podium parking located at 600 E. Rio Salado Parkway. DAVIS designed the modern-looking monolithic glass and steel structures. Transwestern Investment Group (Charles Hazen, pres.) is an investment advisor currently managing $3.4 billion of institutional-grade properties on behalf of its discretionary and non-discretionary investors. BREW has previously reported the company and its affiliates buying and selling office and industrial buildings in the Valley, and developing multi-family communities in the Phoenix market. Transwestern Investment Group and State Farm have now completed three sale/lease back deals. In July of this summer, TIG and South Korean investment manager Mirae Asset Global Investments paid $275.4 million ($466 per foot) to buy a 590,926-square-foot office building State Farm occupies in a suburb of Atlanta, Ga. In November 2016, TIG and Mirae joined forces in the $825 million ($375 per foot) acquisition of a 2.2 million-square-foot office project leased to State Farm in the Dallas suburb of Richardson, Tex. The privately-owned JDM Partners has made some significant investments in the Valley with the Wigwam Golf Resort & Spa in Litchfield Park, the Arizona Biltmore Golf Courses in Phoenix, the 33,800-acre Douglas Ranch in the West Valley and the Comerica Theatre in downtown Phoenix. The company typically syndicates its investments by raising equity from multiple investors. Last month, BREW reported the company filing a zoning application to develop a nearly 2 million-square-foot mixed-use project called La Via on a parcel in Scottsdale now occupied by the CrackerJax amusement park. JDM Partners has agreed to pay $80 million to buy that 27.94-acre site in a deal contingent on zoning approval. BREW has also reported Levine and Cohn involved in numerous Valley real estate investments. The low-profile investors have bought and sold many high-profile, landmark type properties in the Phoenix area as well as other markets throughout the U.S. Find out more from Hazen at (713) 270-3366. Reach Schultz of JDM Partners at (602) 224-2312. Talk to Cohn at (602) 248-8181. Call Fijan at (602) 538-3338.
© Business Real Estate Weekly, Inc. and brewaz.com, 1995-2017. Unauthorized use and/or duplication of this material without express and written permission from this site's author and/or owner is strictly prohibited. For permission to reproduce any article in this newsletter, contact Jennifer Rogers at [email protected]
Business Real Estate Weekly, Inc. is the publisher of Business Real Estate Weekly (BREW), a tip sheet newsletter that covers business and real estate activity in Arizona. Founded in 1995, BREW is a weekly publication focusing on new residential and commercial developments, the sale of income-producing properties and businesses relocating or expanding in Arizona. For those looking to have cutting edge information at their finger tips, BREW is the publication business professionals use to get the latest in commercial and residential real estate news in Arizona. Known for it's accurate, timely and independently researched information, BREW has been called "The Bible" for its detailed, first hand reporting on business and real estate deals in Arizona. With more than 20 years of stories and news items in our archives, Business Real Estate Weekly has the longest period of chronicled history of all business and real estate news sources in the Valley. With the newly-added multiple search capabilities in our archives, BREW is a must have for anyone researching real estate in Arizona or simply following the market.