VIAWEST VENTURE STARTS NEW YEAR WITH A BANG . . . DROPS $60 MILLION FOR INDUSTRIAL PARK
Publish Date: 01-12-2018
Volume: XXIV
Number: 1


Print Article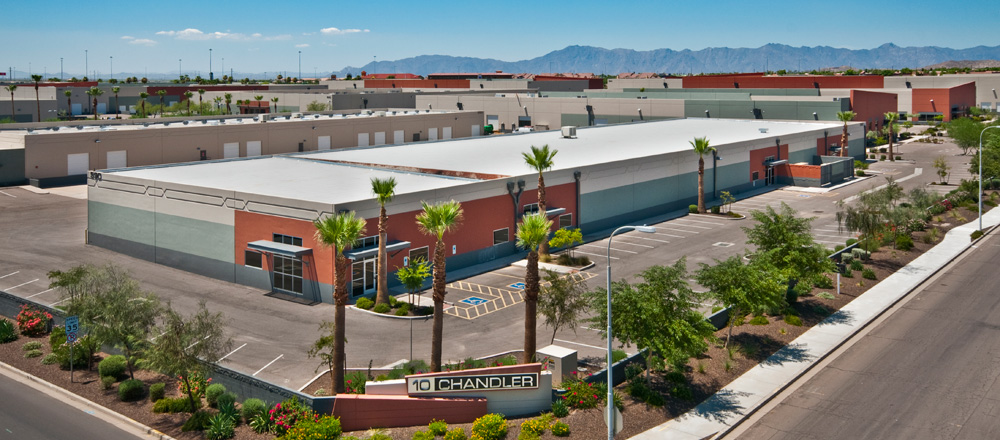 Photo Credit: 10chandler.com
Phoenix – Continuing its bullish investing in the Valley real estate market, a joint venture formed by ViaWest Properties LLC in Phoenix (Gary Linhart, Steven Schwarz, Danny Swancey, principals) has paid $60 million ($108.44 per foot) to purchase a 553,317-square-foot industrial park located at the southwest corner of 54th and Galveston streets in Chandler. The nine-building project, called 10 Chandler, was sold by North 54th Street Venture LLC, formed by EverWest Real Estate Partners LLC in Denver, Colo. (Rick Stone, et al., partners) and American Realty Advisors in Glendale, Calif. The transaction was brokered through Darla Longo of CBRE in Ontario, Calif. and Jackie Orcutt of CBRE in Phoenix. The 37-acre property, which is 91 percent occupied, was developed in 2008 by a venture formed by Lincoln Property Co. in Phoenix. Orcutt has been leasing the project and will keep that assignment for the new owner. The investment proved to be a home run for the EverWest partnership, which sold the asset for nearly double what it paid to buy the project seven years ago. In January 2011, BREW reported EverWest (then known as Alliance Commercial Partners LLC) paying $30.45 million ($55.03 per foot) to buy 10 Chandler, which was then just 34 percent occupied. The multi-tenant park, with buildings ranging from 36,095 sq. ft. to 90,235 sq. ft., has addresses of 450-590 N. 54th Street. Public records show 10 Chandler was acquired by Chandler LL, LLC, formed by ViaWest and Investcorp International Inc. in New York City, N.Y. The company purchased the property with a $43.8 million loan from New York Life Insurance Co. The venture is the first for ViaWest and Investcorp, which have both been active investors in the Valley. Over the past few years, ViaWest has been involved in more than $300 million of real estate acquisitions and developments in the Phoenix area. Many of those deals have involved ViaWest purchasing, repositioning and selling office and industrial projects in the Valley. Last year, BREW reported ViaWest and another venture partner paying $29.82 million ($116.72 per foot) to buy The Monroe Building, a 255,477-square-foot office project at 111 W. Monroe Street in downtown Phoenix. ViaWest, which is an active investor in other western states, also sold five Valley office properties last year in transactions totaling $108 + million. The privately-held company is working to acquire another 530,000 sq. ft. of office space in the Phoenix market in three acquisitions scheduled to close this month. (see related story HERE) According to its website, Investcorp has been investing an average of $1 billion per year in 30 metropolitan areas in the U.S. Investcorp. The company, which has recently been buying multi-family properties in the Valley with multiple partners, also acquires office, retail, industrial and hospitality properties. Investcorp has previously bought and sold office buildings in the Valley, including the 478,448-square-foot Viad Corporate Center on Central Avenue in Phoenix, which the company sold in 2006 for $105.55 million ($220.60 per foot). Investcorp is owned by the Bahrain-based Investcorp Bank B.S.C., which is publicly-traded on the Bahrain Bourse (INVCORP). The company has $21.3 billion in total assets under management. After closing out a fund that owned 10 Chandler, EverWest looking for office and industrial investment opportunities in the Valley. The privately-held firm likes value-add and core-plus properties in the Phoenix market in deals of $10 million and up. Get more from the ViaWest principals at (602) 957-8300. Herbert Myers of Investcorp is at (212) 599-4700. Amr Ceran, senior v.p. at EverWest, is at (602) 274-4433. Reach Orcutt at (602) 735-1978. Call Longo at (949) 418-2105.
© Business Real Estate Weekly, Inc. and brewaz.com, 1995-2018. Unauthorized use and/or duplication of this material without express and written permission from this site's author and/or owner is strictly prohibited. For permission to reproduce any article in this newsletter, contact Jennifer Rogers at [email protected]
Business Real Estate Weekly, Inc. is the publisher of Business Real Estate Weekly (BREW), a tip sheet newsletter that covers business and real estate activity in Arizona. Founded in 1995, BREW is a weekly publication focusing on new residential and commercial developments, the sale of income-producing properties and businesses relocating or expanding in Arizona. For those looking to have cutting edge information at their finger tips, BREW is the publication business professionals use to get the latest in commercial and residential real estate news in Arizona. Known for it's accurate, timely and independently researched information, BREW has been called "The Bible" for its detailed, first hand reporting on business and real estate deals in Arizona. With more than 20 years of stories and news items in our archives, Business Real Estate Weekly has the longest period of chronicled history of all business and real estate news sources in the Valley. With the newly-added multiple search capabilities in our archives, BREW is a must have for anyone researching real estate in Arizona or simply following the market.